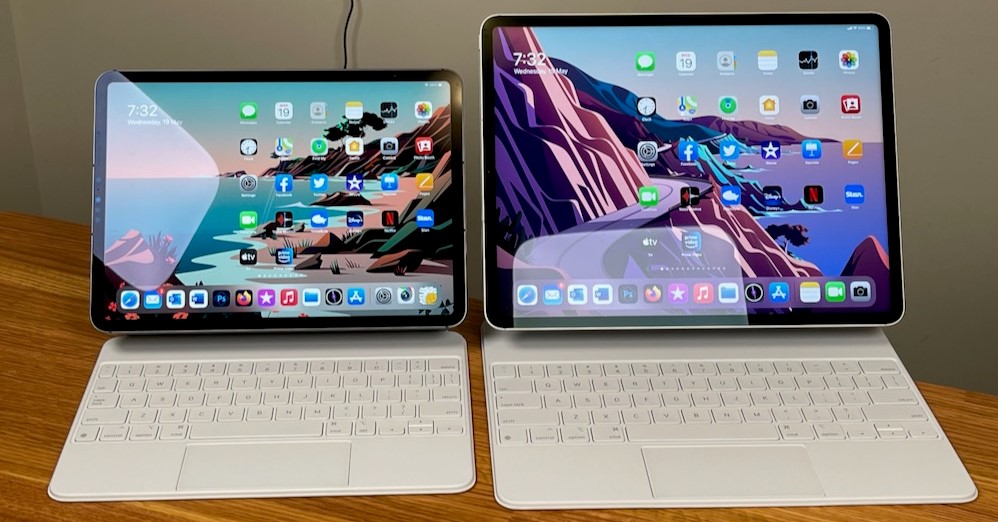 When Apple released the iPad Air in 2020, many could not help but speculate that the company's next release was certainly going to be a beast. That's because the iPad Air shared the same A14 Bionic chip as the iPhone 12. This was closely matched in performance terms to the A12Z bionic in the outgoing iPad Pro. True to these predictions, Apple released the new iPad Pro M1 just a few months later and immediately, it started to make sense why the iPad Air inherited that much power. The new iPad Pro comes featuring Apple's latest in-house chip—the M1 chip. Yes, the same chip is featured in the latest generation of MacBooks, iMacs, and Mac Mini. Now in its fifth generation, this update brings the iPad Pro M1 into the realm of high-performance laptops and the display rivals some of the best premium TVs in the market
Specifications
Display: 12.9in 2732×2048 Liquid Retina XDR display (264 pixels per inch)
Platform: Apple's M1 chipset (with integrated 8-core CPU/8-core GPU)
RAM: 8GB or 16GB
Internal Storage: 128 GB, 256 GB, 512GB and 1TB or 2TB
Camera: 12 MP, f/1.8 wide, 10 MP, f/2.4, 125˚ ultrawide TOF 3D LiDAR scanner, 12MP TrueDepth selfie camera
Connectivity: Thunderbolt 3/USB 4, WIFI 6 (optional 5G), Bluetooth 5.
Mini-LED goodness
The iPad Pro M1 comes in the same two variants we've become accustomed to, 11 inch and 12.9-inch versions. That said, it's only the larger 12.9-inch version that gets the stunning mini-LCD display. This is a huge step up from the traditional LCD that brings it close to OLED level performance, with all the benefits of LED panels. To put things into perspective, OLED panels have pixels that will self-light to display colours. This means that individual pixels can be lit, dimmed or turn off completely to bring out very high contrasts. LED panels, in contrast, rely on an LED backlight on the back of the display to light up the pixels. This means that the blacks sometimes look grey, and the contrasts aren't as high. The main difference between OLED and LCD is that they work at cross purposes, with the OLED's weakness being the LCD's strength. LCDs are quite inexpressive and will last longer, while OLED offers high contrasts but are expensive and can suffer image burn-in. Apples Mini-LED finds a great compromise taking the traditional LCD and bringing it close to OLED performance which means you get all the benefits of both.
M1 Power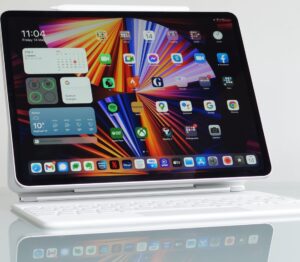 Apple's M1 chip is as good as it gets at the moment for laptop and desktop performance. It has enjoyed success in the Macbooks, Mac Mini and iMacs, and it only made sense that it came to the iPads too. The M1 chip makes the iPad Pro M1 2021 1.5X faster than the previous iPad Pros. This performance bump just takes it beyond the reach of the competition like Microsoft's Surface Pro 7 and Samsung's Galaxy Tab S7+. This power does not mean much for the basic tablet user, but once you start getting into professional workflows, the iPad pro M1 comes alive. To be fair, the only difference between the iPad Pro M1 and the MacBook Air is the touch screen on the iPad Pro. Otherwise, the M1's performance is available in test scenarios, i.e., benchmarks and actual real-world use. We expect that Apple will keep releasing software to take advantage of this power, and they have recently teased LumaFusion and AR effects.
Thunderbolt 3
The iPad Pro M1 takes the already impressive USB-C support and gives it full Thunderbolt 3 and USB-4 support. This quadruples the bandwidth of data transfers and connections. Plus, the iPad Pro can support a wide array of peripherals. For instance, you can expand the ports situations with an external dock like the Anker PowerExpand Elite 13-in-1 Thunderbolt. This will permit you to connect your iPad Pro to your favourite external drives, monitors, card readers, ethernet and even a mouse.
iPadOS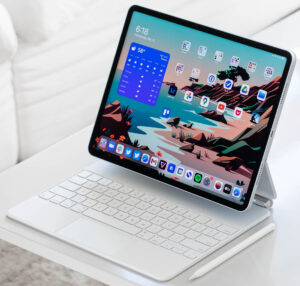 The iPad Pro M1 was released with iPadOS 14, but all compatible tabs will run on the iPad OS 15, which is set to launch in fall 2021. This allows improved multitasking capabilities bringing the iPad Pro to laptop territory. The iPadOS 15 allows you to put widgets on any screen you want. You also get to put all your apps in one screen—the App Library and for multitasking, you can now split-view apps or slide over with a tap to use two apps at once. It also adds the universal control feature that allows you to use the iPad Pro M1 alongside your MacBook seamlessly. This means you can literally drag and drop files from one device to the other or continue operations from one device onto the other—as if it were a single display.
The M1 iPad Pro has features that are easy to take for granted. FaceID takes advantage of an improved 12MP ultra-wide selfie camera, and the rear cameras paired with LIDAR are also fantastic. The quad speakers get loud enough, and the traditional support for the Apple Pencil and magic keyboard still exists. The M1 iPad Pro is arguably the best tablet on the market, and depending on your needs, you can never go wrong with either the 11-inch or 12-inch iPad Pro.