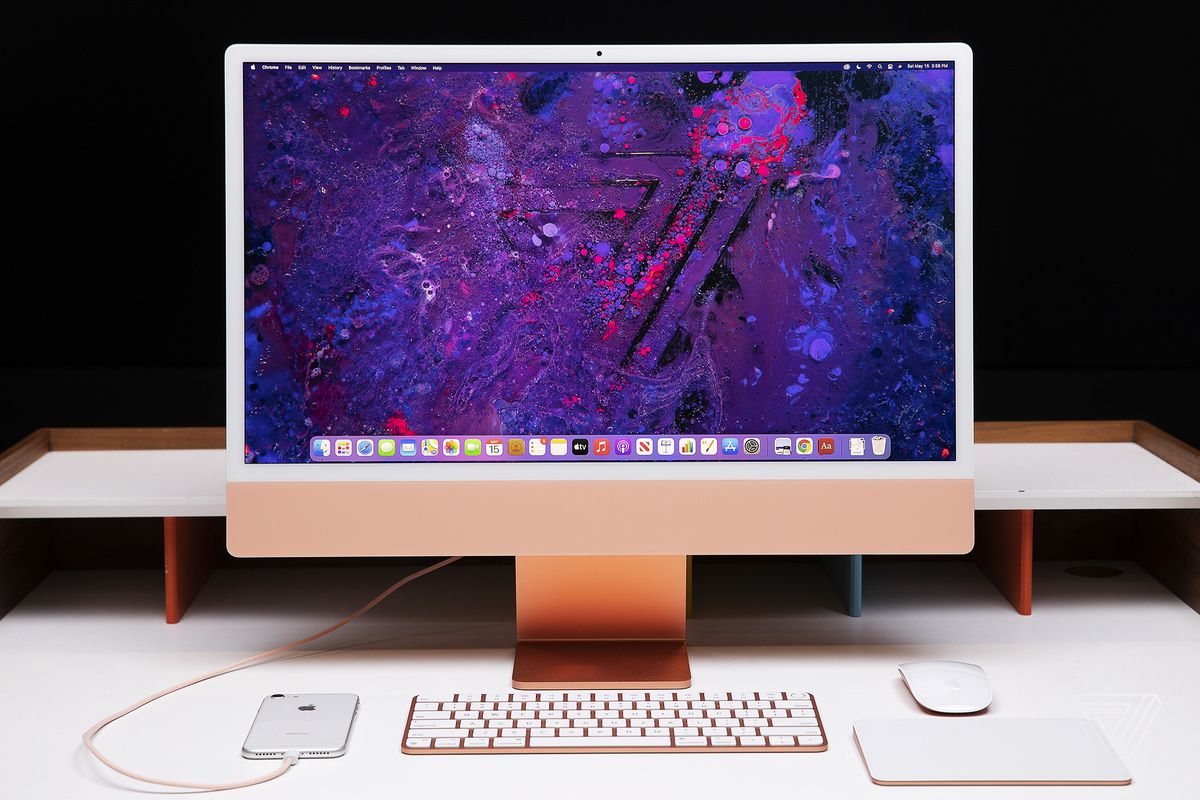 The new iMac 2021 is a design refresh intended to be a family-friendly computer that will fit any room, office, and setting. It comes in a range of colors, which means the aesthetically conscious can now choose a laptop that seamlessly matches their taste. It will perform effortlessly in most performance cases, and anyone will love using the new iMac 2021. Essentially, its performance is similar to other M1-powered Apple devices, albeit with better thermal performance thanks to having cooling fans. But like all devices, it has a few strong points and weaknesses, which we explore in this review. So, let's dive in.
iMac 2021: Key specs
The 2021 iMac runs on Apple's M1 chip, which has an 8-core CPU. That said, you can buy the M1-powered iMac with the option of a 7-core GPU or an 8-core GPU. The fully specced out version comes with an 8-core CPU, 8-core GPU, 16GB RAM, and 2TB internal memory. Comparatively, the cheaper 7-core GPU version only has 8GB RAM, a humble 256GB internal storage, no ethernet port on its charging brick, one cooling fan, and two Thunderbolt 3 ports. It also lacks a fingerprint scanner on its keyboard for TouchID security. Both machines, however, are incredibly customizable, and you have the option to mix and match specs how you prefer. All accessories will be colour matched to your choice of monitor too. Opting for the higher specs gives you options like having an ethernet port on the power brick and TouchID.
iMac 2021: design and build
The refreshed iMacs design has been a talking point since it was unveiled. For one, long gone are the bulky iMac designs in favour of a slate on a stand design on the new machine. It comes in 7 bold and striking colours, and the front fascia is dominated by the trademark chin, white bezels, and the omission of the apple logo on the front. You can opt for the classic silver, but you can now get your iMac in red, green, blue, purple, pink, or yellow. The new design means that the 2021 iMac is over 1kg lighter than the model it replaces. At 11.4 mm thick, it is by far the thinnest all-in-one computer on the market, too. It's so thin that the headphone jack had to move to the side. The new iMacs power cable heralds the return of magnets with easy connectivity and pulls out if the cable were to get tugged. The iMac 2021 does not offer height adjustment, with only tilt adjustment available.
iMac 2021: Hardware
The new iMac comes complete with a wireless magic keyboard and magic mouse. You can choose a keyboard with TouchID, swap out the mouse for a trackpad, or buy both. The TouchID keyboard is great for quickly logging in and out and will come in handy when making online purchases. The screen is an impressive 24 inch 4.5K unit that is colour accurate, and the white bezels make it disappear into the background for an excellent visual experience. It features apples TrueTone technology which enables it to adjust display brightness and colour based on ambient lighting, but you can disable it when on creative tasks. The sound from the stereo speakers is also incredibly punchy and clear. Considering the size of the machine, it is incredible how loud it can be, especially in closed environments. It also supports spatial audio when Dolby Atmos is activated.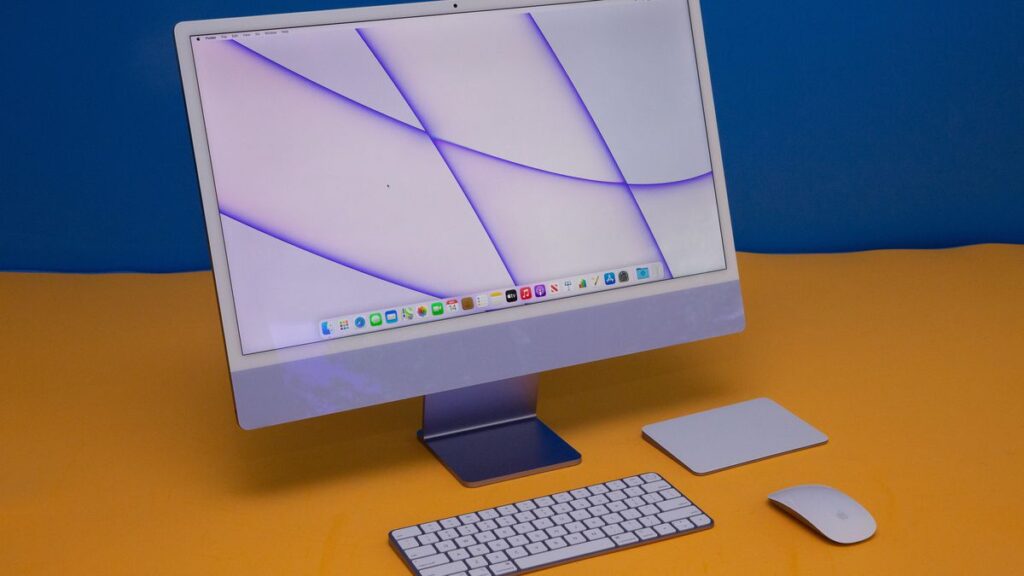 iMac 2021: Performance
Since Apple began the transition to their homespun M1 chips, a lot has been said about their impressive specs. It easily beats the Intel-equipped iMacs it replaces, and the best way to see how is to experience it first hand. This chip is a revolution in computer chip-making because it mimics smartphone chips, and somehow, when most manufacturers could not conceive it, Apple made it work for them. This is the same chip fitted in the Mac Mini, iPad Pro 2021, and new MacBooks. The M1 chip aces most performance benchmarks with astonishing results and will breeze through demanding tasks like video rendering and simulations. You can also take advantage of the neural engine for machine learning tasks. This iMac will run on macOS Big Sur, and while there were some software compatibility issues when it launched, there is now widespread support for M1-powered iMacs. Any software that is still incompatible will run comfortably on Rosetta until native M1 support is achieved.
The ports situation is also intriguing, with the entry-level iMac 2021 only having two thunderbolt3/USB 4 ports. The higher-spec versions come with 4 ports – 2 USB-C and two Thunderbolt 3/ USB 4 ports. This means that you may have to use a dongle or USB-C adapter to add more peripherals to your iMac.
Going through this review, a pattern emerges. The iMac, despite its impressive performance, is designed to be a computer for the masses. The immense customization in specs coupled with its non-traditional colours means that it has been designed to fit anywhere conceivable. Whether it is a classroom, hostel, bedroom, home office, or lab, it will fit in and ace any tasks you throw at it.